Learn Spanish online with our unique teaching method
My name is Maria Casas, I'm head teacher and founder of Hispania Academy.
At our Online Spanish Academy, we have been teaching Spanish since 2021. During this time gathering feedback, knowledge and experience from our students, we have developed our own Spanish teaching method, leading to a unique system to learn Spanish online: 4 Keys Learning System.
Please let me introduce you this proven system and methodology for learning Spanish.
4 Keys Learning System

Platforms and Tools

Teaching/Learning Materials

Test your Level

4 Keys Learning System to Spanish fluency
Prior to starting with the specific techniques used in our Spanish online classes, I would like to provide a bit of information about our own Spanish teaching method, the hub around which all systems and methods turn. I am referring to our "4 Keys Learning System to Spanish Fluency" that we use in our Spanish online classes.
All of our Spanish online classes are based on the 4 Keys Learning System, as we believe applying the 4 skills: Listening, Reading, Speaking and Writing in each Spanish Online class will be crucial for getting the best in our Spanish learning.
Therefore, we re-structured the European Framework of Reference for Foreign Languages (CEFR) and the American Company for the Teaching of Languages (ACTFL) into 4 Keys Learning System for every level, from beginner to fluency.
a) Reading
Reading is our second Key, Spanish reading will lead us to improve our Spanish language skills. This key is very important as we will understand and remember things by sight. It's proven that, by picturing all what we have learned in our head, by using our primarily visual senses, will make us improve fast in the Spanish Language.
b) Speaking
Speaking is our third Key. We have detected that Spanish Speaking will help to improve our grammar, vocabulary and pronunciation from the back of our mind to the front. This skill will be very useful as will make improve our memory in the Spanish language and improve our fluency.
c) Listening
Listening is our first Key, all our classes start with the listening skill as will be useful learning by hearing and listening. Here we will practice the understanding and remembering of things we hear. Storing Spanish information by the way it sounds, we apply all types of Spanish accents for the best of the learning.
d) Writing
Writing is our fourth Key and the last one, all our Spanish Online Lessons will finish with this skill. It will be very useful for the Spanish students to think critically about materials, encouraging them to organize and integrate all prior Keys with new concepts.
Learning platforms and tools
In Hispania Academy we use several learning platforms and tools for teaching Spanish. We have proven that combining Google Meet + Hispania Academy Campus + Google Classroom will maximize students learning results.
a) Hispania Academy Resources
Feel the Spanish immersion with Hispania Academy Resources. This is our learning Spanish platform completely adapted to your needs and is full of digital books that you can use whenever you want!
In our platform you will find resources for all levels: Kids, Teens and Adults. These resources include the 4 keys; Listening, Speaking, Reading and Writing.
Our resources are made up of audios, videos, essays, translations and exercises and much more. All resources are adapted to all people of different nationalities.
Resources can be learned at your own pace or with teachers help in case you also book lessons!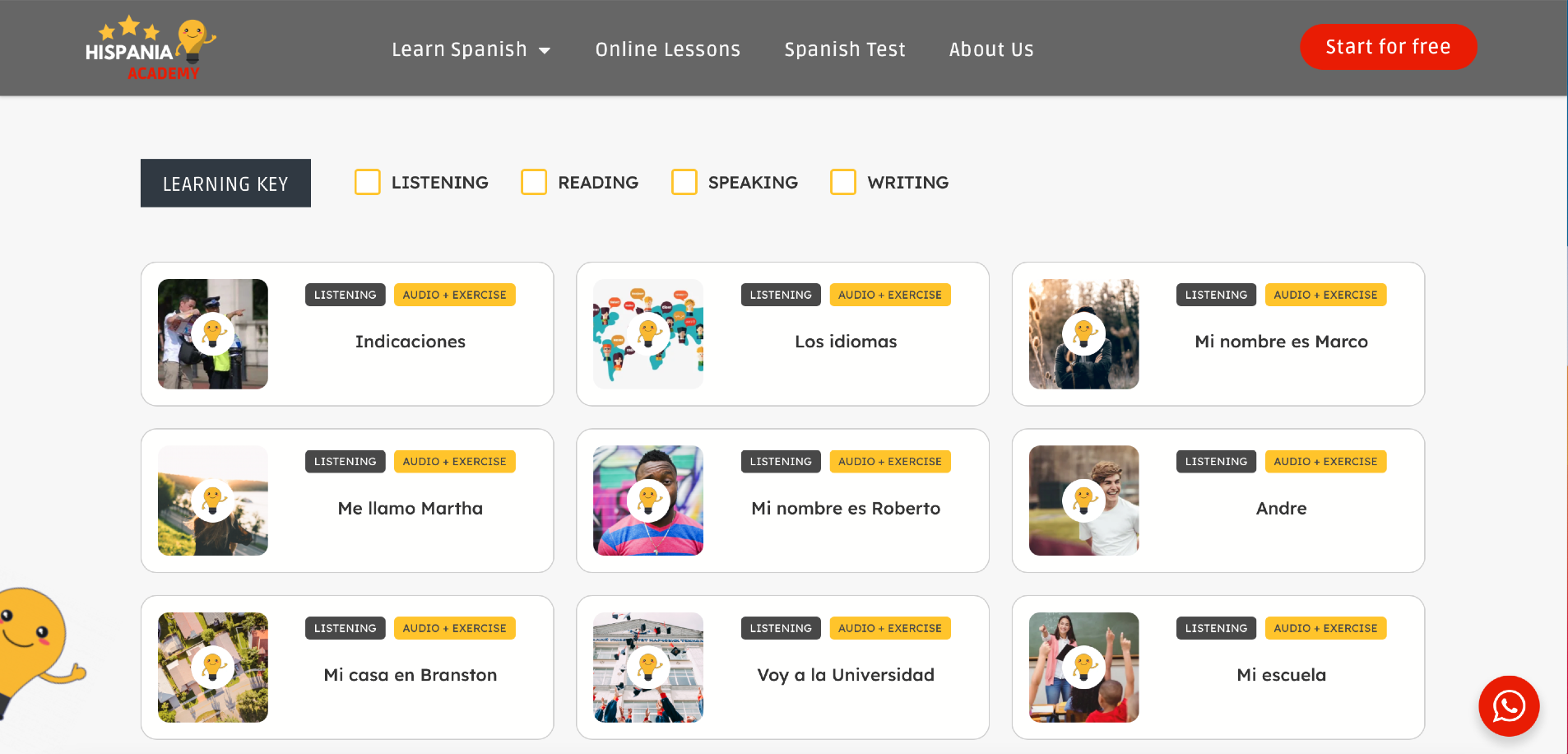 b) Google Meet
Our Spanish academic offer are based on Google Meet. We use this platform to recreate a virtual classroom for a face-to-face live teaching, interacting with students by sharing screen, presentations and other learning resources. It is a primordial tool to go through our online lessons.
c) Google Classroom
We use Google Classroom platform for streamline assignments, share learning materials and boost communication. This way teachers manage and grade students tasks, as well as provide annotations and feedback.
Teaching/Learning Materials (TLM)
a) Presentations
In Hispania Academy we create our own instructional materials and spread them in our Spanish online lessons through personalized presentations.
All presentations contain the 4 Keys + Activities. In the Spanish Online Lessons we will learn through the presentations together with Hispania Academy Resources.
b) Kids educational resources
Lola y Leo are manuals for children that propose a simple and fun method. The students learn with themes typical of childhood in a progressive and playful way: they talk with their teachers, draw, sing, represent, listen to real and natural auditions.
It consists of seven units, three intercultural sections and an annex with cut-out material to stimulate activities. Each unit offers very dynamic activities, vocabulary, grammar and phonetics sections and a fun manual activity to continue learning and playing. It incorporates a new concept of visual grammar so that students learn in a clearer and more playful way.
It also offers seven original songs and a video to learn the alphabet (downloadable content).
c) Teenagers educational resources
Reporteros Internacionales are Spanish manuals that make it easier for teenagers from all over the world to approach the Hispanic world of today. Presents: Units starring young reporters from Spain and Latin America. Agile work sequences that are completed with an entertaining final project. A natural and very careful linguistic progression.
Numerous playful activities to encourage oral interaction in the classroom. Special attention to the cultural reality of the Hispanic world. Spaces to develop intercultural and civic skills. Fun mind maps. A section dedicated to study and learning strategies.
Gente Joven Nueva Edición is a series of manuals for teenagers based on the task approach. It proposes a new progression that favors the acquisition of the language and the consolidation of the contents.
It offers numerous lexical and grammatical aids and formal practice activities within the unit and it contains a competency assessment at the end of each unit.
d) Adults educational resources
Aula Internacional Nueva Edición is a variety of manuals to all levels. It is the action-oriented Spanish course that makes the classroom the perfect context for learning the language because of the variety of activities, which take into account different learning styles. its balance between the work of understanding, production and interaction through his treatment of grammar, rigorous and significant, clear and attractive graphic language. Also, offers numerous auditory documents and each didactic unit incorporates a video.
Gente Hoy manuals are the revised and updated edition of Gente, the pioneering course in the application of the task-based approach with which millions of students from all over the world have started learning Spanish.
This new edition gathers the suggestions of a qualified group of teachers who use the book in different countries and educational contexts.
Las claves del nuevo DELE is a material for those students who want to take the tests at all levels of the Diploma of Spanish as a Foreign Language of the Cervantes Institute.
It is a practical and easy-to-use manual, structured into five units that offer both the lexical and grammatical content as well as the resources for communication and the cultural references required at this level.
In addition, each unit contains a Key section that provides the student with the necessary tools to successfully pass each test. At the end of the book, five exam models are offered that faithfully reproduce the official DELE tests.
Before you start your Spanish online lessons, we test your grammatical knowledge using our Spanish level test.
Our Spanish test is key to allocate you in our different levels.
The Key Elements of
Our Online Spanish Lessons System