Spanish online lessons and Virtual Campus for kids from 3 to 10 years old. Children will learn fast and easy!
We prepare children to learn and speak Spanish fast and in a fun way, improving their Spanish skills with the best teachers and methodology.
Our courses are composed of digital materials, funny activities, great methods and free platforms in Spanish for kids. Our lessons in groups are based in conversational Spanish for those kids who wants to dedicate the most of the time speaking with other kids.
Is time to start, is time to learn together with Hispania Academy.
Online Spanish Virtual Campus
for Kids
The best App to learn Spanish for kids
Helping the smaller ones how to learn Spanish at their own. Our kids Virtual Campus contains more than 200 Podcast, Storytellings, Videos, Audios and Images. Is specially designed for kids.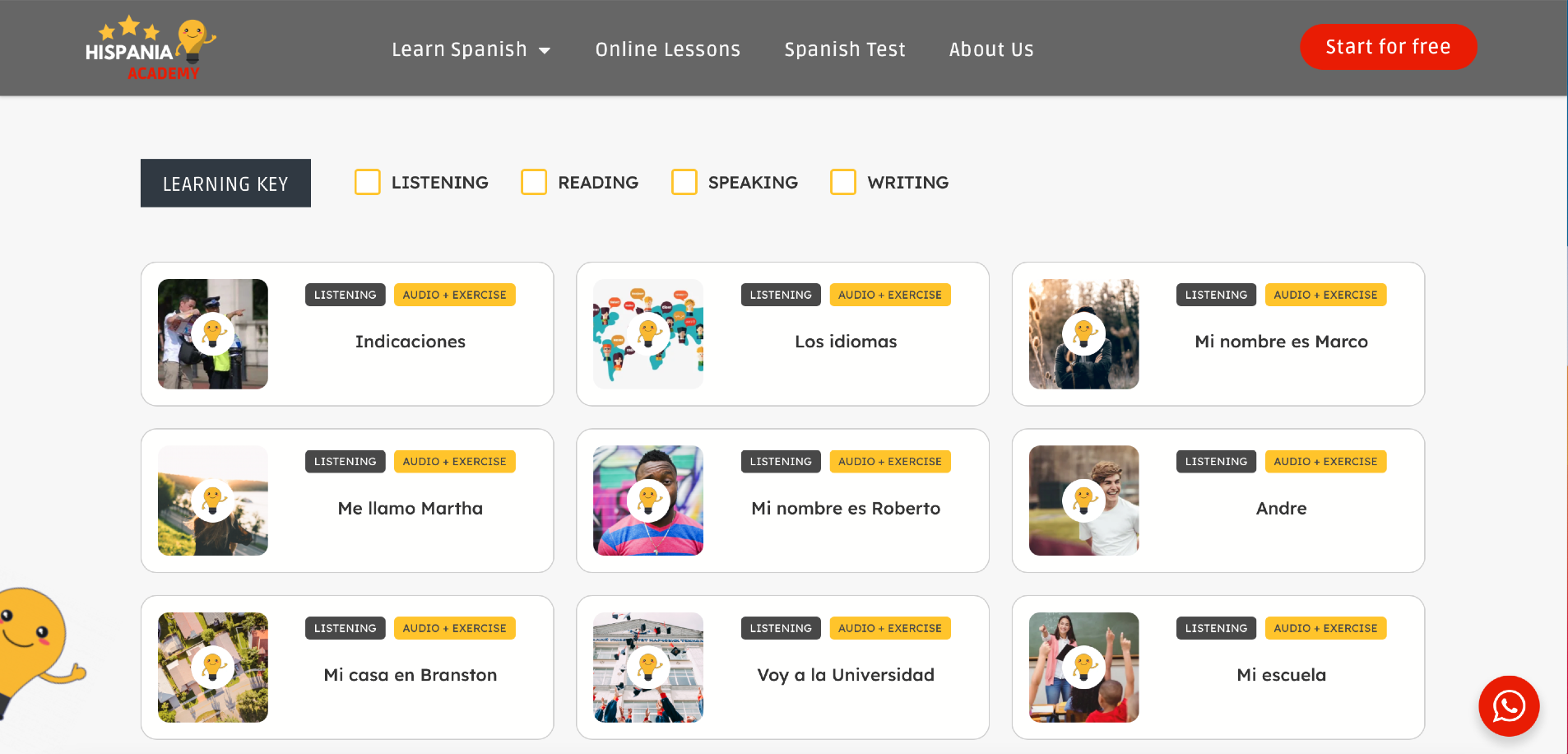 Online Spanish Classes for Kids
Intensive private Course for Kids
They can take our classes from the comfort and convenience of your home. No need for driving anywhere! Scheduling classes and choosing a teacher that your child likes is done in a few clicks. Our Intensive course is composed of digital materials, funny activities, great methods and free platforms in Spanish for kids.
Semi-Intensive private Course for Kids
We accompany them along the way, helping them learn how to speak Spanish in a communicative way. Our Spanish classes are structured and standardized especially for kids but yet follow the learning speed and necessities of your child. This allows for personalized learning.
Practical private Course for Kids
There are no long explanations of grammar or boring memorizing of vocabulary. Let's not make it complicated! Your child will jump right in and converse with their teacher in Spanish from day one, in an immersive environment, learning Spanish the same way native Spanish speakers learn it.
6 reasons to choose
our Spanish classes for children
Based on what our customers tell us, here are the main reasons why parents
prefer Hispania Academy for their kids to learn speaking Spanish.
Hispania Academy is a Spanish online school born from the entrepreneurial spirit of Maria Casas.
With international Spanish teaching experience in many different countries, academies, schools and universities, our main goal is helping students all around the globe becoming fluent in the Spanish language.
Common questions
about our Kids lessons
Yes, parents can both be present and participate in the class!
The age of your child should be between 5 to 10 years old.
Your child teacher´s will keep to date parents with every child progress.
Every class is adapted to every child need based on our Spanish learning methodology.