Spanish online lessons and Virtual Campus for teens from 11 to 18 years old. Teenagers will learn fast and easy!
Spanish online lessons focused on teenagers from 11 to 18 years old, our teachers will adapt the Online Spanish lessons for every teenager to make them get the best grades, assist in class work and prepare any type of exam to make every student learn fast and easy.
We prepare teenage students for their exams. Our students at Hispania Academy always get the best grades in their class work and exams in general. Our Spanish classes for teenagers are an incredibly interactive experience. They will not only learn the Spanish language, but also understand and appreciate Hispanic culture.
Online Spanish Virtual Campus for teenagers
The best App to learn Spanish for Teenagers
Helping teenagers how to learn Spanish at their own. Our Teenagers Virtual Campus contains more than 200 Podcast, Videos, Audios, Images, Essays and Translations. Is specially designed for teenagers.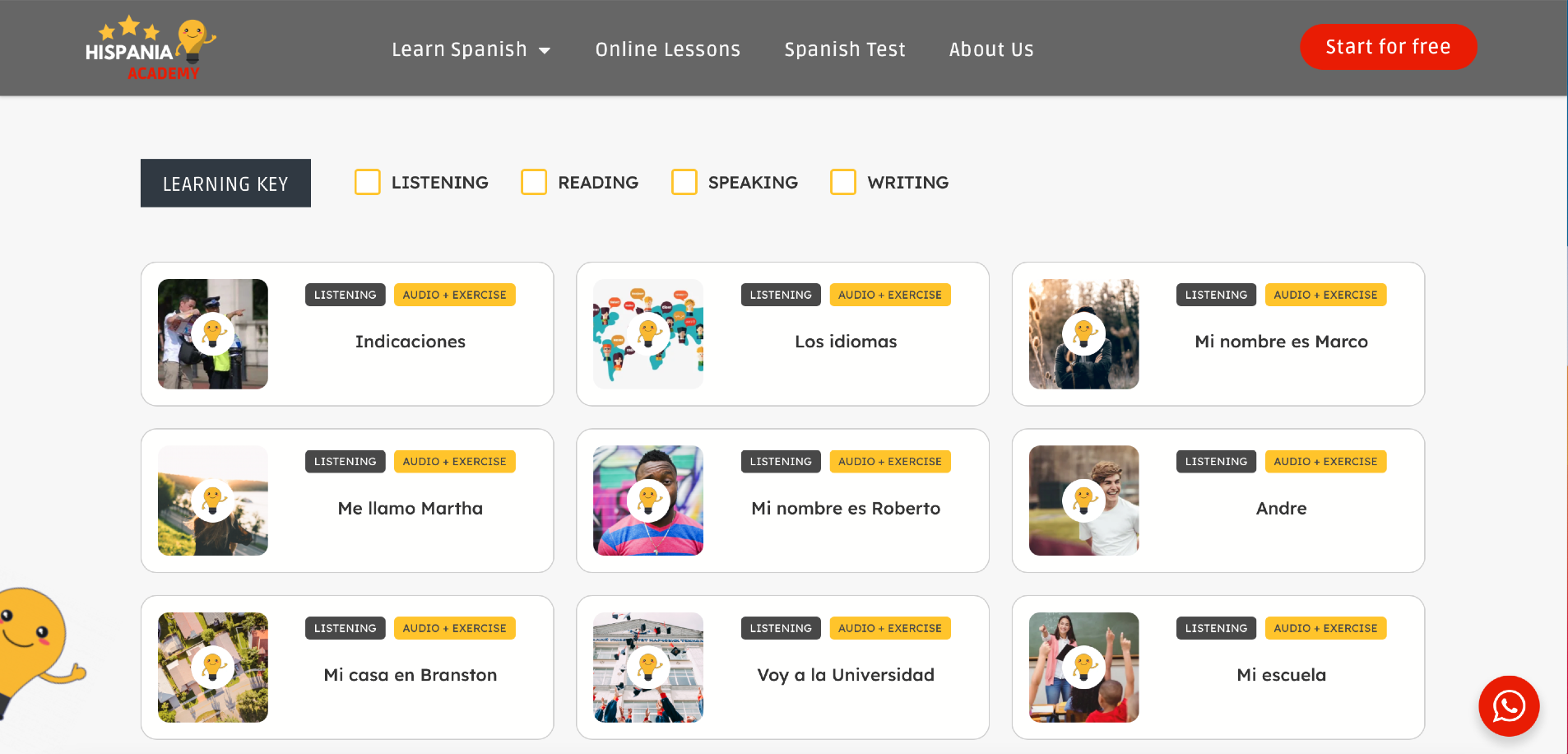 Spanish Courses for Teenagers
Intensive Private Course for Teenagers
If you want to study for DELE exams preparation, IB or others, Intensive 15 lessons it is the best way to learn Spanish and to help yourself to get great marks in your exams. Writing, Listening, reading and speaking are the skills you will use and learn with the teacher in class. You will see amazing progress after a few weeks and you will be more comfortable speaking Spanish with others.
Semi-Intensive Private Course for Teenagers
Helping teenagers learn to speak, understand, read & write Spanish is our GOAL! We organize individual classes based on similar levels of speaking ability. That way you get the most interactive experience possible. Your Spanish will improve considerably starting with 10 lessons and you will feel more comfortable speaking in Spanish.
Practical Private Course for Teenagers
To learn the second most spoken language in the world, a teenager will acquire tools to build a multicultural network, travel unhindered by language barriers in Europe, South America, and North America, and expand academic and professional opportunities. You can try 5 lessons to establish a first contact with the Spanish language.
6 reasons to choose
our Spanish classes for teenagers
Based on what our customers tell us, here are the main reasons why parents
prefer Hispania Academy for their teenagers to learn speaking Spanish.
Hispania Academy is a Spanish online school born from the entrepreneurial spirit of Maria Casas.
With international Spanish teaching experience in many different countries, academies, schools and universities, our main goal is helping students all around the globe becoming fluent in the Spanish language.
Common questions
about our Teens lessons
Teacher will always keep the teenager student informed about their progress, and let the student know when is prepared for the exam.
The age of every teenager should be between 11 to 18 years old.
All teachers will keep to date with teenager's students all their Spanish progress.
Every class is adapted to every teenager need based on our Spanish learning methodology.